Lanna Apisukh is a portrait, food and documentary photographer based in New York City. With a background in skateboarding and an extensive athletic career as a former elite gymnast, she is drawn to photographing dynamic individuals, communities and subcultures. Her work explores people and their relationship to place, culture and identity through bold and lively stories she strives to create in her imagery.
Lanna is a Bachelor of Arts graduate of the University of Washington and expanded on her photography education at the Fashion Institute of Technology. Her subjects span from TV personalities, skateboarders and celebrity chefs to artists, everyday people and their surroundings.
As a first generation Thai-American and the daughter of former restaurant owners and cooks, Lanna had also developed a deep appreciation for food at a young age and its connection to family and culture which can be seen in her profiles with restaurants.
Lanna is a member of Diversify Photo and became a FUJIFILM ambassador in 2020. She is a regular contributor at The New York Times, New York Magazine and The Wall Street Journal. In addition to her photography work, she has provided mentorships and creative education to underserved communities through BKC and ASMP programming. Lanna is also founding member of Seeing Collective, an artist group hosting talks, photo exhibitions and critiques to foster community and a supportive network within the photo industry.

Lanna is available for assignments and commissions.
Contact: lanna.apisukh@gmail.com

Lanna's selected archive is syndicated through Redux Pictures.

Portrait of Lanna by Fiona Veronique.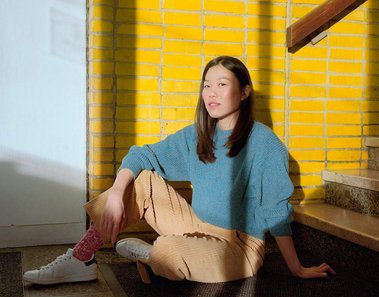 Selected Clients & Publications
The New York Times
New York Magazine
The Wall Street Journal
The New Yorker
Bloomberg
The Atlantic
NPR
BuzzFeed
Financial Times
FUJIFILM
The Guardian
NBC Today Show
Eater New York
Bust Magazine


Associated Press
Men's Health (Hearst Magazines)
British Journal of Photography
Communication Arts
It's Nice That
Office Magazine
Aint–Bad
Van Wyck Van Wyck
Polaroid Originals
The Photographic Journal
The Criterion Collection
Platform (David Zwirner Gallery)
Red Bull / Red Bulletin magazine
Lomography Magazine
Exhibitions & Presentations
- AI-AP 39 (American Photography) Chosen Winner (April 2023)
- Float Magazine, Curator : "If It Makes You Happy" Online Exhibition (Feb 2023)
- 212 Photography Festival 2022: "Create Next" Exhibition with Converse, Istanbul, Turkey (Oct 2022)
- FUJIFILM Fujikina Festival, Photography Exhibition, The Glass House - New York City (Sept 2022)
- Photoville Festival 2022: Everybody Skate Solo Exhibition, LES Skatepark, NYC (June 2022)
- Her Justice Annual Photography Auction & Benefit, Curated by Cathy Kaplan at Aperture Foundation (May 2021 & 2022)
- Welcome Back: The Show Will Never End, Float Magazine Group Exhibition, Queens, NY (May 2021)
- Relief Markt Group Exhibition, Waterfront Studios, Brooklyn, NY (Dec 2020)
- NY Photo Salon x School of Visual Arts, Online Presentation (Oct 2020)
- Smokey Vale Gallery 'Community' Group Exhibition, Brooklyn, NY (Sept 2020)
- Czech Center New York 'Still Cities' Exhibition, New York, NY (June 2020)
- Humble Arts Foundation: Group Show 63, 'Love Actually' (Nov 2019)
- Seeing Collective x BKC 'Disconnect' Group Show, Brooklyn (Oct 2019)
- Lomography 'Metropolis' Group Show, Brooklyn, NY (Aug 2019)
Workshops & Events
- Guest speaker (Digital Media + Food) at NYU, (April 2023)
- International Center of Photography, Guest Speaker at Teen Academy (Dec 2022)
- The New York Times Portfolio Review, Attendee (March 2022)
- Eddie Adams Photojournalism Workshop XXXIV, Student (Class of 2021)
- Fujifilm x Flickr/Smugmug Photo Critique, Guest Speaker (June 2021)
- ICP Teen Academy, Guest Speaker (May 2021)
- NEST x Madewell Hometown Heroes - Product Photography workshop, Guest Instructor (May 2021)
Learn about Diversify's community of BIPOC and non-western photographers, editors, and visual producers looking to change the culture in photography.
With a long history in producing photographic films and digital imaging equipment, FUJIFILM X-Series and GFX cameras have been some of my favorite gear to work with over the years.